DEVELOPMENT
| | | |
| --- | --- | --- |
| | | |
Great products can only be achieved through innovative processing of high quality raw matrials. PT. APN places serious attention to the selection and testing of its raw materials. On top of that, its laboratory department is also charged with researching ways to continually improve product quality and cost effeciency. Employing modern phsical and chemical testing equipment, PT. APN ensures its products lives up to their reputation in durability, stability and safety.
PRODUCTION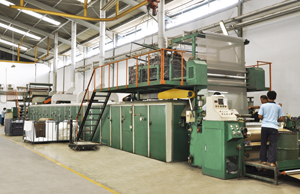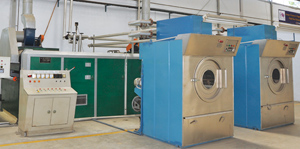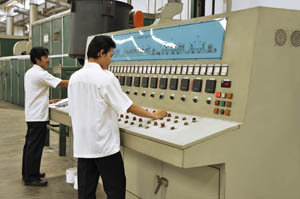 The key to our sucess in becoming the leather specialist bolis down to speed, quality and cost. Highly experienced, our production team knows best how to consistenly manufacture high quality synthetic leather for any end applications at the most optimum efficiency. Our unique 4-coater-4-oven coating (also known as "casting") machine is specially adapted for flexibilty and stability in producting both our retail products (ready stocks) and those customized according to specific industrial requirements (job order).
QUALITY CONTROL
At PT. APN, each and every meter of produced goods can only be released to market after passing the stringent standard of the QC team. We thoroughly inspect the technical and visual qualities of our products, only the best are then properly packed and labeled for immediate shipment to your premises. By having QC, Production and R&D teams working closely on total quality issues, we are moving towards ever-increasing standard of excellence.
WAREHOUSE AND DISTRIBUTION
In our bid to provide the highest service to our valued customers, PT. APN maintains buffer-stock of our popular lines of products. This way, most orders can be delivered within 24 hours, allowing our loyal customers to better forecast and execute their manufacturing activities. With our products distributed widely in major cities, availability is always ensured.